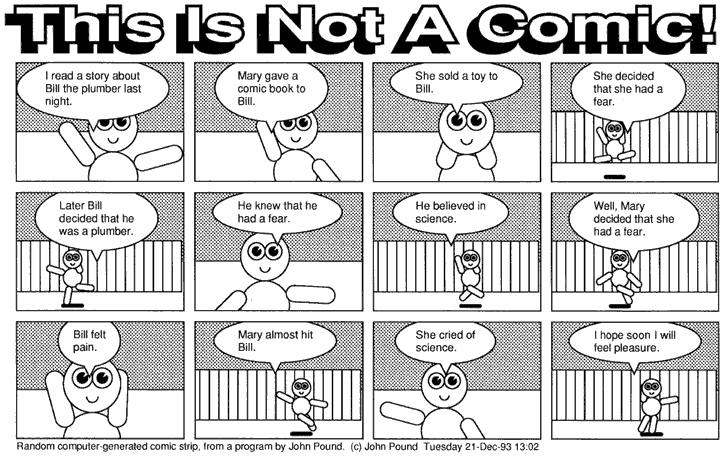 NOTE: Please read cartoon ABOVE if you can!
I know at this time I was supposed to be in the middle of a challenge but I fell short on the topics and got sidetracked doing other things. But I wanted to keep my fingers a-tapping so I can at least stay in the realm of consistant verbiage; even if it turns into an episode of ramble babbling that might ensure for a quick run to therapy.
*screams...YOU'RE NOT MY SUPERVISOR!!*
Ah yes!! The art of babbling is not for the meek at heart and not all are able to embrace the fullness of its being! When there are woes weighing you down and your mind takes a turn for the worse...BABBLING...is right there to save you. Even when there are times that are uplifting and beautiful...BABBLING is right there to give you the head nod...wassup! Sometimes (I don't know if you feel that way) I feel there is always NOT a need to fill your mind with specific and organized subjects, topics and sitcha-ations. Letting the fragments of our minds float aimlessly with no intended destination but to recycle them at a later date is a beautiful thing! weeeeeeeeeeeeeeeeeeeeeeee
*screams...PUSH ME AGAIN DADDY!!*
I could go on "record" and discuss the shocking devastations that have been plaguing the world for years now, but I chose not to go their because of the deep rooted heaviness that is attached to it! But what I COULD say is...If people would really see what they refuse to see, they would know these things are happening for a reason. Wasn't it already written?? I'm just sayin...but I'm NOT!! GOING!! THERE!!
*screams...I SAID NO TEA IN MY COFFEE!!*
OR...I could talk about the blogs I read recently written by both men AND women about how the mistakes single women are making and what they're doing wrong and the steps they need to take on getting and keeping a man! HOW THE FUCK DO YOU KNOW!? SMH Aren't you writing from your own experiences? What makes YOUR words THE GOSPEL? Sit yo bitch asses down! And the bad thing about it is...people will listen and agree (ooo...you made such great points! BITE ME)! One persons' experiences should not dictate another persons' life! YOU are the purveyor of your own destinty and the ONLY one that can learn from your own experiences. Oops...that just might be a Catch 22 because there are some that continue to do the same shit with the same shity shit so they need those random therapists to help them through the day to help them through their shit. BUT...I'm not gonna take that road! NOPE
*screams...LOLLIPOPS! LOLLI LOLLI LOLLI GET YOUR ADVERBS HERE!*
I could go hard in on the many status' I've seen on FB where people profess and consistently showcase their intelligence; maybe to prove to others that they have a brain and can be deep thinkers or...they are the destiny of testaments gone before the latter barriers of time engulfed in the oneness of their superiority to the beauty of the land! Yeaaaaaaa...okay!
*screams...GIVE ME BACK MY PILLS*
Yes indeedy...I could blog-iscize on so many topics but...why would I want to do that when the free-fall of my babbling thoughts randomly dance inside my head busting to get out?
*DON'T YOU THINK I'M PRETTY?*
Ahhh...the simplicity that BABBLING brings is like serendipidty! WHY would you want a cure for it??
THIS ANNOUNCEMENT HAS BEEN SPONSORED BY "R.B.S." (RAMBLE BABBLING STARR)
JINGLE: "Saying what you feel is mighty real cause you gotta blame it on the boogie when you're a shooting star!" *giggle*